0
How to Understand the Average Cost to Build a 1500 sq ft House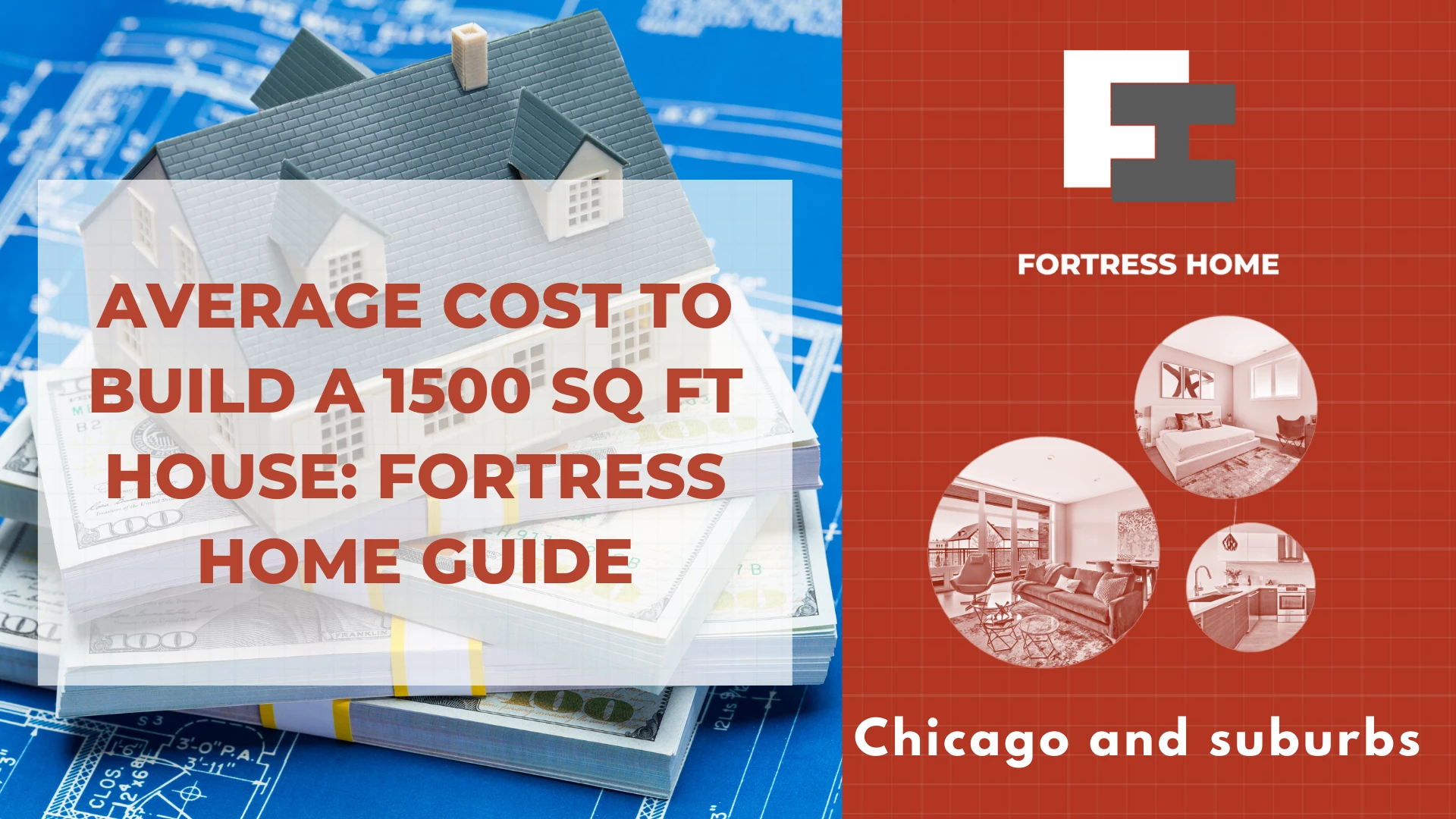 When it comes to building a new house deciding on the size you want is important, and many factors will play into that including the cost to build, the size of your family, and your budget. For many, a 1,500 square foot house might seem like a small home, but you can still fit in 2-3 bedrooms, making it the ideal house for a couple or small family.
We look at how the average cost to build a 1,500 sq ft house is calculated and what can influence that cost.
If you are planning to build your dream home in Chicago, speak to Fortress Home, trusted and experienced (20+ years) custom home builders, with an eye for quality and a reputation for effective time and budget management. Call +773-770-8607 or email [email protected] today.
House sizes
Did you know that the average size of houses in the US has almost doubled since the 1970s with the average new house being 1,660 square feet in 1975, and peaking at 2,740 square feet in 2015? But this trend is on the downturn with the average new home being built in 2020 coming in at 2,300 square feet. Whether this is down to a trend for simpler more minimalist lifestyles - thanks Marie Kondo, we can't be sure, but all of a sudden building a giant mansion seems rather excessive.
Smaller houses have many advantages, including being more affordable, easier to keep clean and maintain, and faster to build. And while a 1,500 square foot house may seem small by US standards it's still bigger than the average house size in many other developed countries, including most of Europe. In Denmark, the average house size is just a touch under 1,500 square feet, while in Sweden it comes in at a much more compact 900 square feet.
Is 1500 square feet big for a house?
Many people worry that 1,500 square feet is far too small for their needs but what can you really fit in a house this size. We checked out some existing house plans for you:
2-bedroom, 2.5-bathroom ranch style house
3-bedroom, 2-bathroom Acadian style house
3-bedroom, 1.5-bathroom modern style house
3-bedroom, 2-bathroom craftsman style house
As well as those bedrooms and bathrooms you can also expect to fit in a good-sized kitchen, a separate dining room, a living room, and even a separate laundry room.
So as you can see, a house this size is very suitable for couples without children, empty nesters, or even small families.
Building a 1500 square foot house
When it comes to building a house there are many components that go into the total price. While at present in the US the national average cost to build a 1,500 sq ft house is $187,500, according to HomeGuide, and $248,000 according to HomeLight, there are many factors that can influence that price.
These figures above also only include the materials and labor so many of the items listed below will be on top of that average cost.
Land
Before you can build your own home you will need a piece of land, which can vary wildly in price across the country. If you are lucky enough to already own some property the cost of building a house on your own land will be reduced.
The general size needed for a house is between 2.5:1 and 3.5:1, in order for you to have a reasonable sized yard and space around your home. So with the mid-point being 3:1, you would need a 4,500 square foot plot to build a 1,500 square foot home.