0
How to Understand the Average Cost to Build a 4 Bedroom House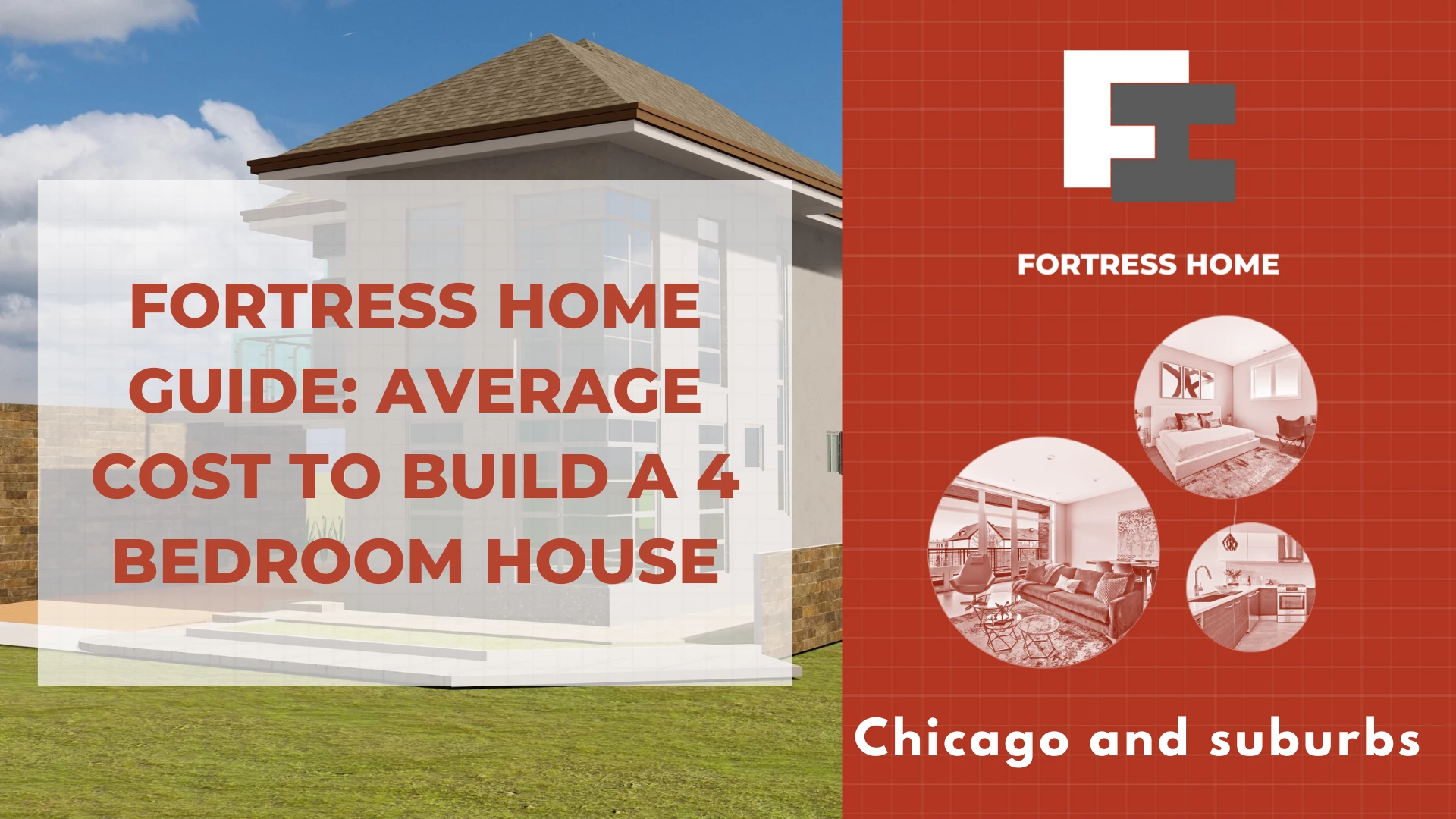 Building your own house is a major undertaking and there are many decisions to be made before you can break ground. Time needs to be spent considering floor plans and interior finishes and deciding on the square footage of your new home. A popular size for a single-family home in 2022 is a four-bedroom house, which allows you to have a master bedroom, rooms for two children, and a guest bedroom for family and friends to come to stay. We look at the logistics and the average cost of building a 4-bed house as well as some other popular house sizes.
When you start looking for home builders to build your own home, come and discuss your project with Fortress Home, Chicago. We have 20+ years of residential construction experience and are excited to help you build your dream home.
Call us now on +773-770-8607 or email [email protected]
What size house do I need?
When moving out of your existing home and building your own home many people want to size up, moving into a large house with more bedrooms, while others are looking to downsize from their existing house. We help you decide what house size, and how many bedrooms you might need.
How many bedrooms per square foot of house?
In the US at present, the average bedroom size is 132 square feet and the average master bedroom is about 225 square feet. While there are no hard and fast rules about the number of bedrooms in a specific sized house there are some rough guides to how many bedrooms you might find in certain home sizes.
2 bedroom houses are generally around 1,000 square feet and usually, only have one bathroom but they can be as small as 500 square feet (tiny house!) and as big as 5,000 square feet.
3 bedroom houses are usually around 2,000 square feet but can range from 1,000 - 2,600 square feet, and usually have two bathrooms
4 bedroom houses on average range from 1,900- 2,400 square feet and have 2-3 bathrooms. They can be as large as 3,500 or bigger, and as small as 1,200 square feet.
5 bedroom houses are often around 2,500 - 3,000 square feet, although they can be as small as 2,000 square feet and as large as 10,000 square feet. They typically have 4 bathrooms.
Recommended house sizes
While bigger might seem better getting the right size house for your family is about more than just having the right amount of square foot per person. A larger house will cost more to build and maintain, and in some parts of the country, land costs make very large houses prohibitively expensive. But it's also important not to build your house too small, or you'll need to move again quickly. Here are some tips for getting the right house size.
Square feet per person
According to the Financial Samurai, the ideal amount of square footage per person living in a house is 600-700, although in a more densely populated area 400-600 might be more realistic.
Location or size
Sometimes compromises need to be made with the size of a house. For example, getting into the right school district might be more important than the huge yard and extra living area in your new home. While you might get more space for your money living out in the suburbs but your commute, gym, and friends might all be a long drive away, so having a smaller home closer to work might be worthwhile.
Visitors
Perhaps you think you need a 5 bedroom house because you have a large family who might want to come and visit. But in reality, are they all going to visit at the same time? Will one or two guest bedrooms be more than enough? You don't want to be paying for 3 guest bedrooms that are only fully occupied for a couple of days each year.
Future needs
Unless you want to move house again in a few years it's important to look at your life stage and what your future needs might be. Are you likely to have an expanding family with more children, or elderly parents coming to visit, or are your children getting ready to leave home, making a more compact home seem more appealing?