0
Is it Cheaper to Build or Buy a House - What Else to Consider?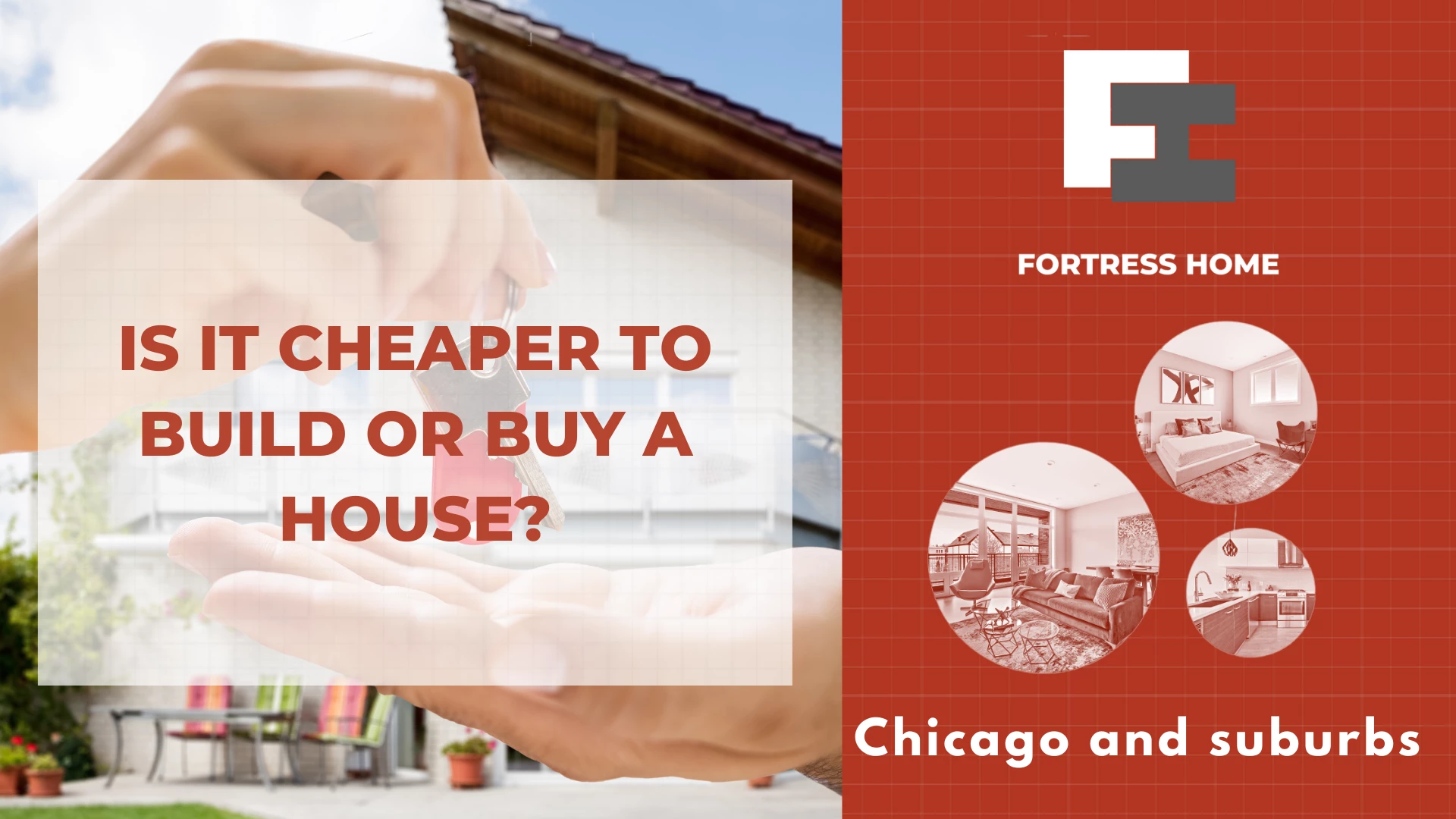 When the time comes to move house many people like to weigh up all the options before making a decision and whether to buy or build a house is something you might be considering. One of the questions you will ask yourself is building a house cheaper than buying?
However, the initial financials are not the only thing you should take into consideration as there are many other factors you should think about including timings, desired location, and house maintenance. If you're considering building a new home in Chicago, get a free consultation from Fortress Home to help with your decision: [email protected] or +773-770-8607.
The financial cost of building a house vs. buying
Looking at the basic numbers, the cost of building a house vs buying a house is very hard to compare precisely as there are so many factors that come into play. These can include the location, timing, type of house, and many more.
However, looking purely at the upfront costs of buying versus building it appears that in 2021 it's cheaper to build than to buy.
The average cost of buying a house in August 2021 is $408,800 according to Statasia
The average cost of building a house, according to HomeAdvisor is currently $284,463
When you break down the figures further the median cost per square foot of buying a house is approximately $184, according to data from Realtor.com, while the median cost of building a new house is around $150 according to HomeAdvisor.
It's important to note that the construction figures may not yet include the increase in the cost of certain building materials, due to the pandemic, which can add up to 10% to the cost of building a new home.
We should also remember that these figures are not comparing like for like, as the house buying figures look at the entire market, while the building figures will cover a smaller sample. This also doesn't take into account the size and location of the properties, which will vary greatly from city to city and state to state.
More than just the headline costs
As mentioned above it's very important to take into consideration more than just the headline cost of building a home vs buying as there are many other factors that you should think about when deciding your next step on the housing ladder. These factors, many of which have financial implications, include:
Location
Convenience and speed
Maintenance
Financing
Energy efficiency
Resale
Design and personalization
Gardens and outdoor space
Ongoing and future maintenance
When buying an existing house you will be inheriting older, used systems, appliances, and features, most of which have a limited life span. So it's important to consider the maintenance and upkeep costs when purchasing a pre-existing house, which may require many costly repairs.
For example, according to the International Association of Certified Home Inspectors (InterNACHI) deck planking will only last about 15 years and a central air system will need to be replaced after 7 - 15 years. Replacing an old deck can be costly with materials ranging from $6 - $35 per square foot, depending on the type of lumber or composite material you choose. And remember, this doesn't include the labor costs which will be required to re-build your new decking. If you need to replace the central air in your newly purchased older home you should factor in around $5,500 - $7,500.
New homes have the advantage of coming with all new appliances and systems, most of which come with warranties, so any repairs in the first few years should be free of charge. If you are building a custom new house you can also choose to use stronger, more durable materials, which will cost more initially but save you money in the long run.
Winner: Building a house
Energy efficiency
When considering the upkeep of your new house, energy efficiency is an important thing to consider. How well is your home insulated? Does it have double glazing? Are the appliances all EnergyStar rated?
The answer to all of these questions will play a major role in the ongoing costs of running your own house, through your utility bills.
Did you know that current building standards are much tougher with regards to energy efficiency, and building materials used today are designed to ensure that houses are well-insulated and sealed? The US Energy Information Administration says that houses built after 2000 are 21% more energy-efficient than those built before 2000, with this trend continuing into the 2010s and 2020s, due to tightening of regulations and improved heating and cooling technology.
All of which means the newer the house the lower the energy bills.
Winner: Building a house