0
The Cost to Build a Small House - Your Ultimate Guide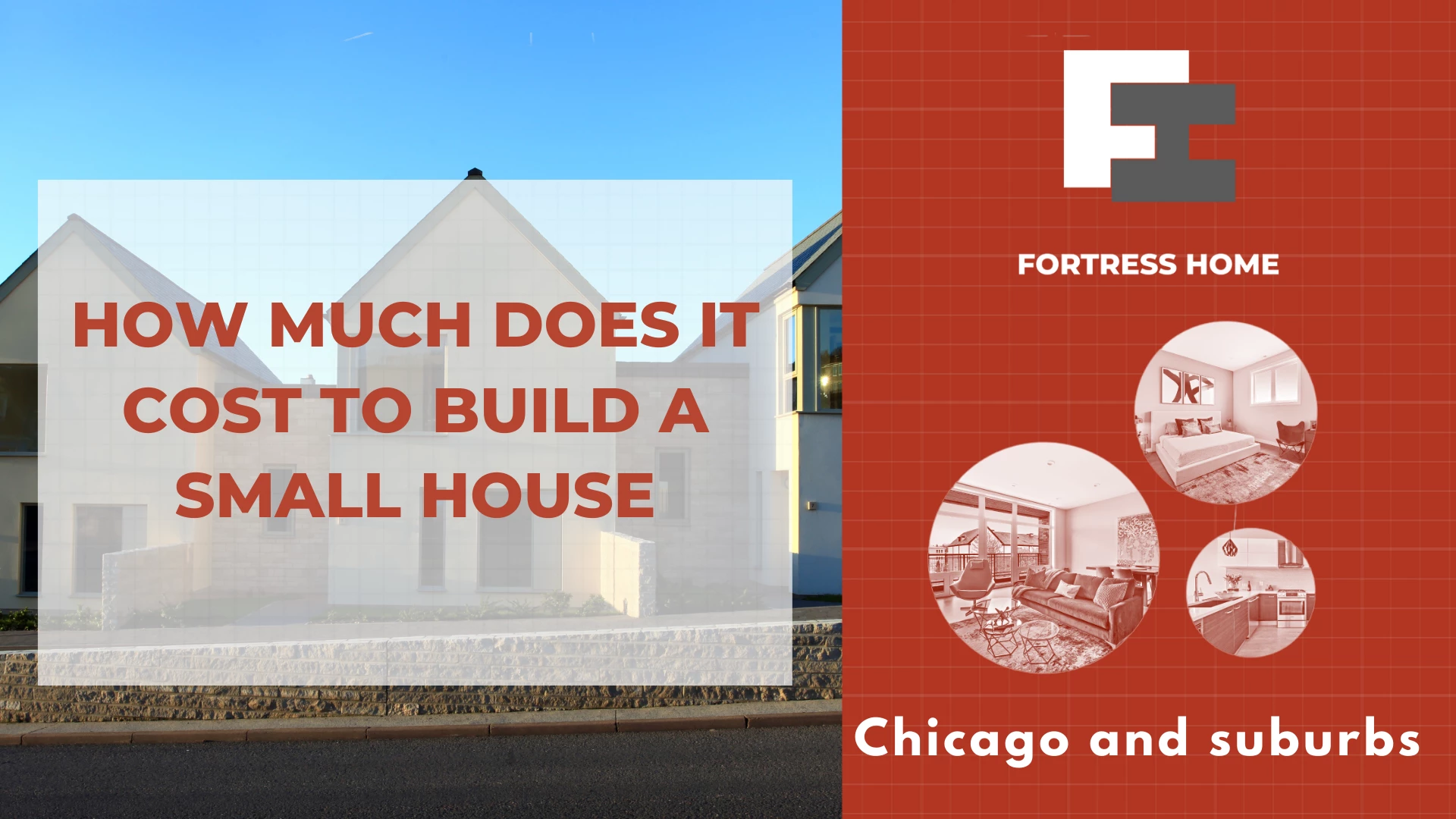 Many people these days are choosing small or tiny houses to both save money and to enable themselves to live a simpler, more minimalist lifestyle. When the time comes for you to build your own home, costs are one of the first questions you'll have and many people have asked us 'how much does it cost to build a small house?'
At Fortress Home, Chicago, we're experts in building houses both big and small and here we break down the main costs involved when building your small dream home. Reach out today for a no-obligation, free consultation: [email protected] or +773-770-8607.
What options are there for small houses?
When people think of small houses they often think of the new trend for tiny homes. But what exactly is a tiny house, and what about a small home?
The average size of a house in the US is around 2,500 square feet and tiny homes are usually considered anything 600 square feet or smaller. But the definition for small houses is less clear. Some people consider it anything 2,000 square feet and under, while other people would say that's positively large. We think 1,500 square feet and smaller counts as a small but comfortable house.
A tiny house on wheels
If you are looking for true freedom with your new tiny home, the option for a tiny house on a specially designed trailer might be for you. The trailer will have RV hookups, allowing you to park your home anywhere you like and simply connect it to the water and power lines.
One of the other benefits of a portable home is no need for permits or building regulations as it's not a permanent building. This will save time, money, and hassle when building your dream home.
On the downside, these are amongst the tiniest of tiny houses and you will have to think very carefully about what you include and exclude from your home, including bathrooms and kitchens.
The average cost for the most basic of this type of tiny house will be around $12,000 but more generally range from $25,000 - $50,000. At the bottom end of this price range, you're unlikely to have a bathroom of your own, but towards the top end, you should have all the basic necessities.
A tiny house with foundations
While permanent tiny homes can be as small as the ones on wheels, there's more opportunity for a second story so these houses might be a bit larger and also a bit more expensive. As they are permanent structures they will be subject to zoning laws and require all the same building permits and inspections as a full-sized house.
With a tiny house like this, you're probably going to spend $50,000 - $150,000, depending on the quality of the materials used and the level of finish and customization required. For this price, you should have a beautiful, stylish, and practical tiny house.
The standard cost to build a small house
If your house is over about 600 square feet it's no longer considered a tiny house, and becomes a standard small home, with all the options available for house building. The average cost of a 1,000 square foot house ranges from $50,000-$400,000.
Small prefab houses
There is a huge range of modular and prefab houses to choose from, with designs to suit every taste and budget. With this style of house, your home builders will lay foundations on your land and then the modules or prefab units will be delivered to the site and installed, usually with all the plumbing and wiring ready to be connected up.
For a 1,200 square foot modular or prefab house you should expect to pay $60,000 - $276,000.
Small site-built houses
This is the most common choice for building your own house as your home builders will construct the entire structure on site, following the standard home building process. One advantage of this type of house is that it can be customized as much as you want, giving you your dream custom home.
A 1,200 square foot site-built house is likely to cost you between $120,000-$480,000, depending on the level of customization and luxury you're looking for.
Container houses
Another option for small houses, or even larger ones, is a container home. These structures are made from repurposed shipping containers and can make stylish, practical, and affordable homes. The containers are inexpensive to purchase and you can join several together to create your own modular house.
The actual cost of a container will be around $5,000, although you may want to pay a little bit more for a ready insulated, chilled container. Another advantage of shipping container houses, other than cost, is the fact that they are quicker to build than a standard site-built house.
To build your shipping container home you should budget around $60,000-$90,000, about half the price of a similar-sized traditional house.